Re-Vamped Christmas Products!
Posted on
Have you started your Christmas shopping yet? Have you even thought about it yet?
I must say, this year I have been very lax ... I am normally well on my wasy to finishing by now!
I am REALLY looking forward to Christmas this year! Last Christmas, I was lucky enough to go to Perth, Australia for a month with my lovely husband and three boys to stay with my hubby's family - we flew out on 10th December (correction, our flight was cancelled last minute due to the heavy snow, so we actually flew out on 11th December but that is another l-o-n-g story!) and so I never even put up my Christmas tree last year!
Have you ever experienced Christmas in a hot climate? It was very, very strange - seeing Christmas decorations up everywhere in the blazing hot sunshine was surreal! We had the most amazing time out there but I am really looking forward to putting up my Christmas tree this year (a task I normally stress over as I am so busy with orders I cannot seem to comfortably fit the timeframe needed to get my (several) Christmas trees up!).
So, as unorganised as I am being in my personalised life, I have been a little better at Pretty and Personalised and my Christmas products have had a much needed re-vamp and several new ones have been added to the website!
'Baby's first Christmas' and 'Our first Christmas as Mr & Mrs' are always popular and these have been given an update, and there has been a lovey addition for 'Our first Christmas as a family' plaque.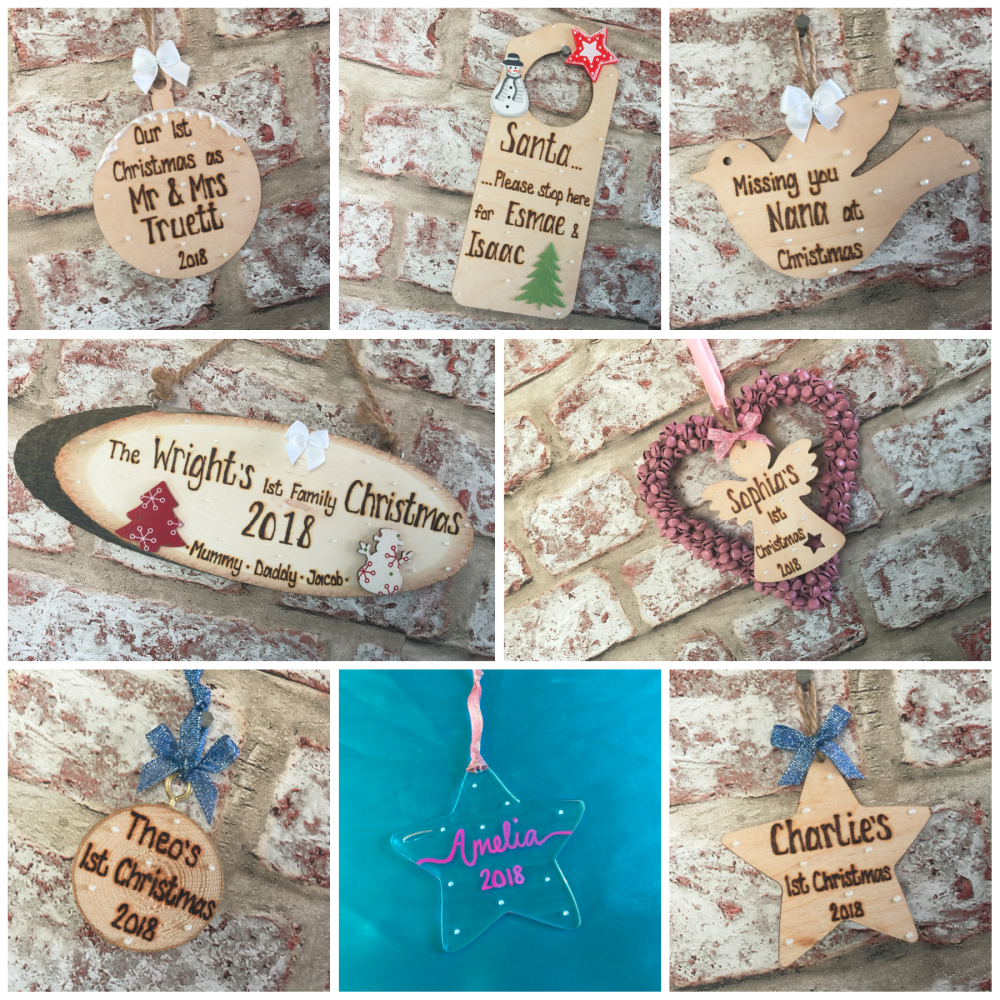 Which one is your favourite? If you click on the photo, it will take you straight to the Christmas category so you can browse the products available.
This lovely glass heart can be personalised with your own message and is perfect to celebrate your first Christmas as a married couple.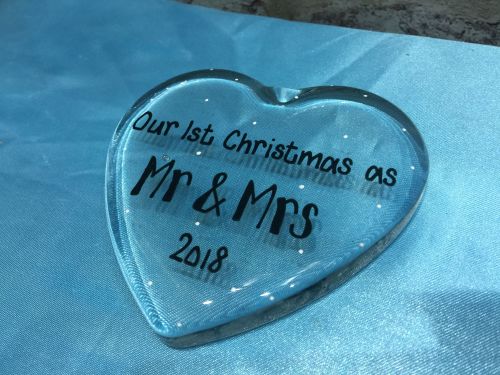 This acrylic star Christmas tree decoration has the personalisation handwritten in fine white ink and comes with either a blue or pink sparkly ribbon. It would make a gorgeous addition to your Christmas tree and is a perfect way to celebrate baby's first Christmas!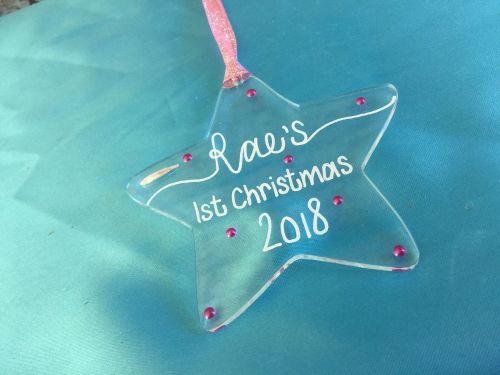 I would love to see your photos of your products from Pretty and Personalised! They will be featured on the 'Customer Photo Gallery' and you can send them to me via social media or email - Facebook, Instagram, Twitter or Pinterest (links at the bottom of the page)
Email me at [email protected]
Ciao for now!